Meet the survivors and advocates whose voices spurred "holy rumblings" in the nation's largest Protestant denomination.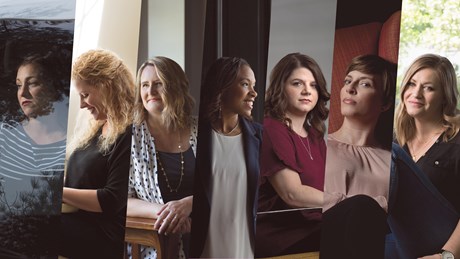 For many years, even as revelations of sexual abuse by clergy had been coming to light for decades in the Catholic church, the evangelical church had not had "eyes to see" or "ears to hear" the extent of its own abuse crisis.
In the words of Bible teacher Beth Moore, "By and large, the naïve couldn't fathom it, the knowledgeable wouldn't risk it, the perpetrators were good at it, and the victims were blamed and shamed for it."
But in 2018 and 2019, women brought new attention to the silent suffering of those whose stories were ignored, stifled, and left untold. Among Southern Baptists in particular, these advocates in churches and ministries platformed the cause and supported survivors pursuing justice, healing, and reform.
Faced with a growing wave of survivor stories and a newspaper investigation unearthing more than 700 victims, the Southern Baptist Convention (SBC) is no longer downplaying the problem. SBC president J. D. Greear said the body of churches needs to "repent of a culture that has made abuse, cover-ups, and evading accountability far too easy," months after launching a study group to develop new resources and recommend policy changes.
In the SBC, pastors, professors, senior leaders, and even a prominent seminary president—Paige Patterson at Southwestern Baptist Theological Seminary—have lost their positions over mishandled allegations or their own misconduct. Some congregations facing scrutiny over abuse have withdrawn from the SBC. Southern Baptists will vote at their June annual meeting on whether to add a provision threatening to disfellowship churches without adequate protocols for addressing abuse.
More broadly, two states have considered …

Source: Christianity Today Most Read