Rise of honorary degrees raises concern about misuse of "Dr." in ministry.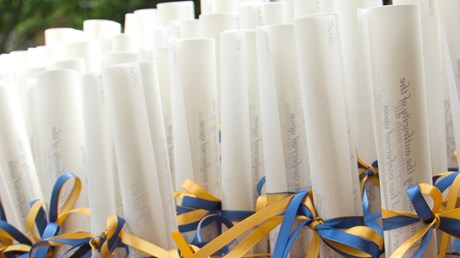 What do figures as wide-ranging as Billy Graham, Rick and Kay Warren, Fred Rogers, and Donald Trump have in common?
All have been awarded honorary doctorates by Christian colleges.
Each spring, another batch of distinguished guests receives these symbolic degrees. Among others this year, outgoing World Vision president Rich Stearns was granted an honorary doctorate of divinity from Gordon College; Tim Keller, an honorary doctorate from Westminster Theological Seminary; and comedian Jamie Foxx, an honorary doctorate from Jarvis Christian College. Eastern Mennonite University awarded its first-ever honorary doctorate this May to Liberian peace activist Leymah Roberta Gbowee, a Nobel laureate and alumna.
By granting such awards, "we're honoring an action, a commitment to a principle, or an action that serves the community," said Ben Gutierrez, co-provost and vice president for academic affairs at Liberty University, which conferred an honorary doctor of laws degree to President Trump when he spoke at the school's commencement in 2017, and an honorary doctor of humanities degree to President Jimmy Carter, the 2018 speaker. "We're acknowledging an example of someone who personifies excellence within their discipline, within their passion, or within their field."
Honorary degrees have a centuries-long history in higher education. But many institutions—including evangelical colleges—have begun to issue them more routinely in the past two decades. The influx of honorary doctorates has led some in academia to call for more clarity in the process; others are ready to do away with the prize altogether.
It's taboo for honorary doctorate recipients to adopt the title of doctor (unless …

Source: Christianity Today Most Read