A deeper problem lies beneath recent stories of swelling rivers, soggy small towns, and feel-good relief efforts.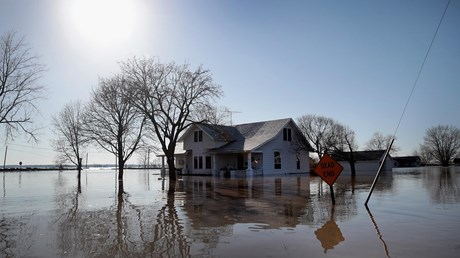 The fields where my grandfather and his brothers once played football are currently covered by several feet of water.
My grandpa Bert was born in a small Nebraska town called Oakland, a couple hours north of Lincoln, just down the road from Senator Ben Sasse in Fremont. Like much of northeastern Nebraska, these towns are now in crisis, battling the historic flooding that has devastated the state's farms and ranches, killed three people, and dislocated thousands.
Currently the state estimates $439 million in damages to infrastructure, $85 million in damages to homes and businesses, $400 million worth of cattle lost, and $440 million of crops destroyed, placing the total damages, by my count, at around $1.3 billion.
Floods lay bare that which was already true. This is what the Genesis Flood does, of course, and it is also how Peter describes the coming judgment at the end of all things. He likens it Noah's flood, going on to say, "the earth and everything done in it will be laid bare" (2 Peter 3:10).
Athanasius argues that miracles are often a kind of supernaturally accomplished acceleration of natural events: Nature will, given enough time, turn water into wine—rains will fall and nourish grape vines, the grapes will be harvested, and then eventually ferment to become wine. Jesus simply sped the process up at the wedding in Cana. Events like a flood, then, might be read as an inversion of a miracle—a rapid acceleration of the unmaking of the cosmos following the events of Genesis 3.
Sadly, I cannot help but see this quickening destruction happening in my home state. The flood has soaked thousands of homes and hundreds of businesses to ruin in places that already struggled with a trajectory of …

Source: Christianity Today Most Read