Three reasons to practice levity and humor in public worship.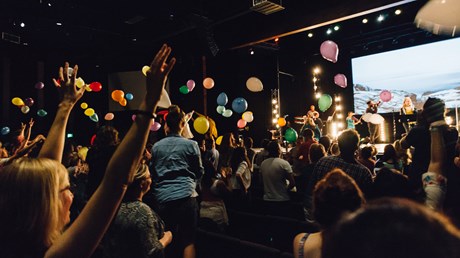 When I was a student at Regent College, I once impersonated J. I. Packer in a chapel service. I pretended he was C-3PO from Star Wars. He laughed, I laughed, people laughed. We laughed, I'd like to think, because the impression fit the man: Both J. I. and C-3PO are tall, lanky creatures, all joints and sockets. They're both British, über-rational, uncommonly smart beings possessed of photographic memories that lead them on occasion to boast of this particular ability. They're also both catch-you-by-surprise funny.
As Packer's teaching assistant for three years, I had the privilege of watching him up close. The point of comparing him to C-3PO was not to stress Packer's ostensibly robotic appearance or preoccupation with etiquette but rather to highlight certain quirky details of Packer's wonderfully idiosyncratic self. It was, if you will, an act of testimony. To bear witness to Packer in this context was to bear witness to the grace of God in his life, quirks and all.
This moment of witness also reflected an oft-forgotten aspect of Christian worship: the call to joy, levity, and humor.
"Seriousness is not a virtue," G. K. Chesterton states in his marvelous book Orthodoxy. "It would be a heresy," he continues, "but a much more sensible heresy, to say that seriousness is a vice. It is really a natural trend or lapse into taking one's self gravely, because it is the easiest thing to do. It is much easier to write a good Times leading article than a good joke in Punch. For solemnity flows out of men naturally, but laughter is a leap. It is easy to be heavy: hard to be light. Satan fell by the force of gravity."
If Chesterton is right, that a certain …

Source: Christianity Today Most Read