It's been a crazy week for America's largest Protestant denomination.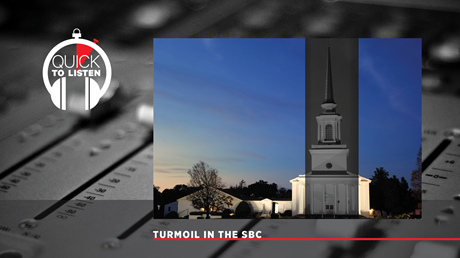 It's been quite a week for Southern Baptists. Since this podcast was recorded, Baptist Press reported that a senior professor of evangelism and student ministry at Southeastern Baptist Theological Seminary had resigned over "personal and spiritual issues." The same article also reported that an Alabama pastor had resigned as executive director of Connect316 and publisher of SBC Today over a Facebook post that seemed to make light of gang rape at the expense of a number of prominent Southern Baptist leaders.
This news came just hours after Southern Baptist Theological Seminary president Al Mohler published a piece he headlined "The Wrath of God Poured Out: The Humiliation of the Southern Baptist Convention." And just hours before, Southwestern Baptist Theological Seminary trustees removed Paige Patterson as president.
That's just from this week. We could go back further.
So what's going on?
We asked longtime Southern Baptist leader Ed Stetzer, now executive director of Wheaton College's Billy Graham Center, to shed light on everything happening to America's largest Protestant denomination. Stetzer joined associate digital media producer Morgan Lee and editor in chief Mark Galli to discuss whether or not the denomination is truly in a #MeToo moment (like Mohler has claimed), why Southern Baptist leaders generally don't publicly criticize each other, and what role the internet and social media have played in the events of the past month.
What is "Quick to Listen"? Read more
Subscribe to Quick to Listen on Apple Podcasts
Follow the podcast on Twitter
Follow our host on Twitter: Morgan Lee
Subscribe to Mark's newsletter: The Galli Report
Follow our guest on Twitter: …

Source: Christianity Today Most Read