Worship experts weigh in on the theology beneath Cory Asbury's chart-topping hit.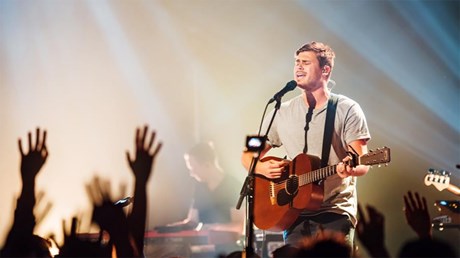 Bethel Music's Cory Asbury hit it big with his song about the "the overwhelming, never-ending, reckless love of God."
"Reckless Love" reached No. 1 for Christian airplay last week, with more than 10 million listeners, according to Nielsen Music.
It's also back at the top of Billboard's hot Christian songs chart, thanks to a boost from none other than Justin Bieber, who recently posted a clip of himself singing the chorus on Instagram before performing the song as part of an impromptu worship set during the Coachella music festival in California. Earlier this year, Israel Houghton offered his gospel cover.
But when worship songs make it big, they also get subjected to a degree of theological scrutiny, and some have questioned whether the message of the hit song misrepresents the nature of God's love.
"A lot of people have asked why I use the word 'reckless' to describe the love of God," Asbury said in a Bethel Music promo. "I see the love of God as something wild, insane, crazy. The way that he pursues, chases us down, loves, I believe, is reckless. We were going after that really furious, violent language to speak of the nature of the love of God."
Back in the '90s, Rich Mullins sang about the "the reckless raging fury that they call the love of God." Similarly, in the worship song "Furious," Jeremy Riddle, also of Bethel Music, describes God's love as "furious," "fierce," and "wild."
About a decade ago, Christians were debating John Mark McMillan's "How He Loves" over the line "heaven meets earth like a sloppy wet kiss." More recently, concerns …

Source: Christianity Today Most Read