Scripture reminds us that love—and loving communication—is patient.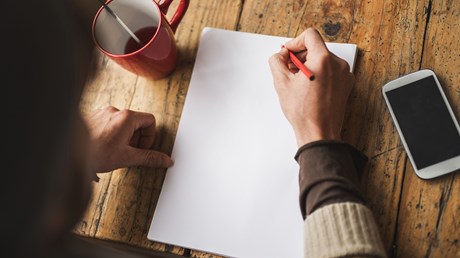 I have a box of letters that my husband wrote to me while we were dating last year. Traveling from Tennessee to South Carolina and back again, these paper conversations established our friendship, growing mutual trust, and admiration. Getting to know a person this way is reasonably outdated. It could have happened a hundred years ago. But for us it was new.
Letters are an old-fashioned practice worth preserving. Unlike most modern communication, letters are for someone, from someone. They are deliberate. They develop slowly and they arrive slowly. They take paper and stamps, maybe a walk to a mailbox to flip up the small red flag.
It's fitting that the inspired writings of the Bible, our most important collection of words, took roughly 15 centuries to compile. And it seems significant that, alongside rich stories, laws, poetry, and history, much of the New Testament consists of personal letters that have endured and nourished recipients for hundreds of years. We get to know more of who God is by the way he breathed his thoughts—over time—through the day-to-day realities of these individuals within their communities.
Paul's tone of voice, for example, displays his affection for the Philippians: "I thank my God every time I remember you. In all my prayers for all of you, I always pray with joy," Paul writes. "All of you share in God's grace with me. God can testify how I long for all of you with the affection of Christ Jesus" (Phil. 1).
This contrasts sharply with the posts, thoughts, and emotions that scroll through my noisy social media feed. Hurried and painting broadly, we are encouraged to say what we are thinking quickly and concisely. Our screen socialization often feels …

Source: Christianity Today Most Read