How the religious movement has spread across the once-overwhelmingly Catholic country.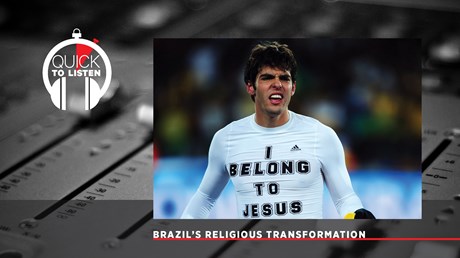 Brazil has won the World Cup five times, and as of press time, appears well on its way to its sixth. The team dramatically imploded at the World Cup it hosted in 2014, but rebounded to win the Rio de Janeiro Olympics in 2016. On the podium, its star Neymar continued the long Brazilian tradition of sporting religious attire on the field, with one key difference: his headband boasted the phrase "100% Jesus," a nod to the country's increasingly ascendant evangelical population. At least 25 percent of the 2018 World Cup team has identified as evangelical.
One of Brazil's biggest evangelical movements is the Assembleias de Deus (Assemblies of God), which includes more than 20 million people. For years, it emphasized a believer's connection to the Holy Spirit. But increasingly, its broadened its spiritual formation focus, says Marcos Simas, a former editor of Cristianismo Hoje, CT's Brazilian sister publication.
"Assemblies of God is becoming more and more rational," said Simas. "They are studying the Bible more and more."
The denomination recently published a study Bible, which sold 50,000 copies the year it came out.
"[Assemblies of God doesn't want to only offer] healing or spiritual gifts," said Simas. "Instead they are offering tools for their members to learn more about God, doctrine, and theology."
Simas joined associate digital media producer Morgan Lee and editor in chief Mark Galli to discuss why Brazilians are embracing evangelicalism, the troubling prevalence of prosperity gospel, and the history of one of Brazil's most well-known (and somewhat infamous) congregations, the Universal Church of the Kingdom of God.
What is "Quick …

Source: Christianity Today Most Read