What a team ban on religious celebrations reveals about evangelicals in South America's biggest country.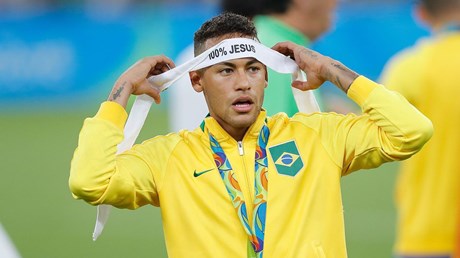 In Brazil, the country of international football, the relationship between religion and the soccer ball is an old one. Brazilian athletes have long played with crucifixes, medals of saints, or wrist tapes honoring the deities of the local Candomblé cult.
But in recent years, explicit evangelical expressions of faith in Christ have dominated the South American nation's sporting scene.
Perhaps not surprising in a country where nearly 25 percent of the population is Protestant, Brazil's national team prays before and after games and celebrates goals by displaying T-shirts with Christian messages. At least six athletes on the current national team playing in this summer's World Cup have declared themselves to be evangelical, including Fernandinho, Thiago Silva, Alisson, Douglas Costa, Willian, and the team's star, Neymar.
But unlike previous international tournaments, the team has been banned from celebrating any of its on-field successes through religious expression.
Just before the 2018 FIFA World Cup, the Brazilian Football Confederation (CBF) banned the team from religiously themed celebrations, claiming that the practice could divert focus on competition and constrain athletes who practice other beliefs or are agnostic. The measure, announced in June, is in line with guidelines from FIFA itself, which controls the world of football and which, since the 2006 World Cup, has been restricting religious demonstrations on the field.
Religious celebrations have long been part of Brazilian soccer. After winning the 1994 World Cup, Cláudio Taffarel and Jorginho attributed part of their victory to divine action. An image of Taffarel in ecstasy, kneeling on the field in front of Roberto Baggio, an Italian …

Source: Christianity Today Most Read