How the church can help Americans better listen to each other on a radioactive topic.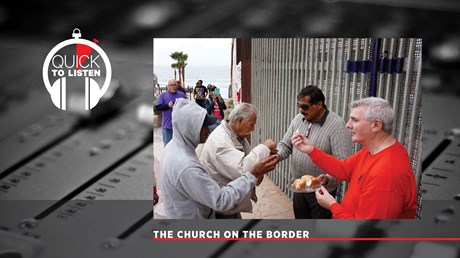 At the beginning of this year, Christianity Today received a grant funding a position for an immigrant communities editor. What beat is that, you say? It's a position that examines "the intersection of immigration, the church, and Christian communities."
As immigration continues to be a volatile current event, we wanted to hire someone who could examine this complex issue from a humane and faith perspective. Enter Bekah McNeel, a longtime education journalist based in San Antonio, Texas.
Living and reporting for a number of years in a border state has changed how McNeel understands immigration issues—and how she perceives the national news coverage that will suddenly show up and attempt to cover a story without "a deep understanding of the context."
"The coverage was always really jarring," she said. "You don't understand how normal it is for people to come and go [across the border]. The thought that a truck full of 18 guys could get as far as San Antonio seems like What? … The whole thing seems bigger and scarier because you didn't have a context."
McNeel joined digital media producer Morgan Lee and editor in chief Mark Galli to talk about why the immigration issues need less policy discussion, speeches, and sermons and more conversations, how emotions are and are not different on the border, and why she's excited about this position this year.
What is "Quick to Listen"? Read more
Subscribe to Quick to Listen on Apple Podcasts
Follow the podcast on Twitter
Follow our host on Twitter: Morgan Lee
Subscribe to Mark's newsletter: The Galli Report
Follow Bekah McNeel on Twitter
Music by Sweeps
Quick to Listen is produced by Morgan Lee, Richard …

Source: Christianity Today Most Read