Where there may be room for GMOs and other modern agriculture in the New Jerusalem.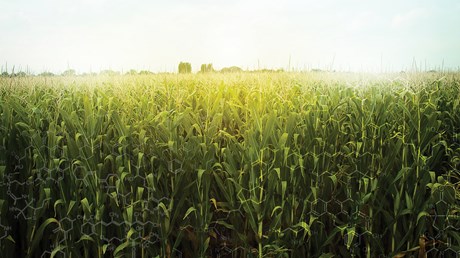 Ross Smith grew up knowing he would farm. Born to a fifth-generation farmer in northern Indiana, Smith in his younger years worked alongside his dad and grandfather. He studied agricultural economics at Purdue University and learned about the technological advancements in agriculture that defined the 20th century and boosted crop efficiency.
But Smith and his wife also began a small vegetable and hog farm in Hendricks County, Indiana, that sold directly to consumers through on-farm purchases and farmers' markets. Schooled in modern agriculture, Smith felt the tension of operating an old-fashioned (if currently in vogue) business, "caught between a love of a capitalistic economic system that awards efficiency and an intense love of God's created world that I believe to be often damaged by 'efficiency,' " he says.
Smith has navigated two competing visions of how we are to subdue the earth and its every seed-bearing plant in the 21st century. One approach maximizes production and crop yields through the power of human innovation, arguing that genetic seed modification and GPS-guided harvesters are God's provision to feed a growing population in a complex world. The other approach sees organic production and the local food movement as guardians of true flourishing, warning us not to overindulge human creativity at the expense of God's original creation: our bodies and the land.
Unsurprisingly, disagreements between proponents of each view—whether farmers or home cooks—have often become polarized. Watchdog documentarians infiltrate the shocking "factory farm" that nourishes a paycheck-stretching Walmart shopper, while a farm-share member packs $7 cartons of …

Source: Christianity Today Most Read