There's more to the singer's faith than sunshine and blessings.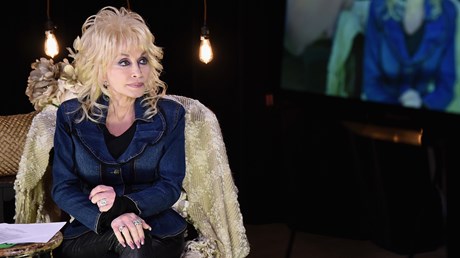 The word icon, despite its clear religious roots, is generally used in a secular sense these days. A true icon, in this sense—a cultural figure who transcends genres and boundaries to win general adulation—is becoming a rare sight in our increasingly fragmented culture.
Dolly Parton, argues writer Dudley Delffs, is one figure who unquestionably deserves the label. It's easy to agree with that. The sweet-voiced singer-songwriter from East Tennessee has the powerful gift of creating music that speaks to people of all backgrounds and all tastes. From childhood, she had the ability to hold an audience spellbound with her songs, and at 10 years old she was making her Grand Ole Opry debut.
In a six-decade career, Parton has had a stream of hits that are still widely known and loved, including "Coat of Many Colors," "9 to 5," "Jolene," "Love Is Like a Butterfly," and "I Will Always Love You," and won numerous awards, including nine Grammys. Just this year, she won two Guinness World Records (Most Decades with a Top 20 Hit on Billboard's Hot Country Songs Chart and Most Hits on Billboard's Hot Country Songs Chart by a Female Artist). She's also known for providing a warm and lovable presence in movies like Steel Magnolias. As a boundary-crossing artist, Parton is arguably right up there with Johnny Cash and Elvis Presley.
More than that, her massive philanthropic efforts have helped people not just in the needy mountain community where she grew up but all over the world. Her talent, generosity, and deliberately gaudy appearance have made her recognizable and beloved everywhere. If iconic in the secular sense fits anyone today, it fits Dolly …

Source: Christianity Today Most Read