An evangelical historian searches for the roots of Trump-friendly evangelicalism.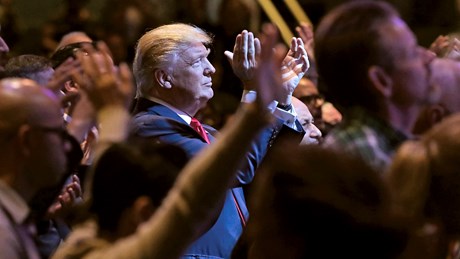 John Fea has two intended audiences for his new book, Believe Me: The Evangelical Road to Donald Trump. On the one hand, he dedicates this book "to the 19 percent"—to the segment of white evangelicals who (at least according to exit poll data) voted against Trump in the presidential race. But in another sense, Fea is also writing to the remaining 81 percent, to those who decided that Trump could best advance the cause of Christianity in America.
Fea writes as both a historian (he teaches at Messiah College) and a self-identified evangelical. In this second vein, he offers a sympathetic portrayal of the predicament in which evangelicals found themselves during the 2016 election season. He frames his discussion of the Obama administration as a period of intensifying fear for American evangelicals. Once the Obama administration sided with progressives on the same-sex marriage issue, he writes, it "became relentless in its advocacy of social policies that not only made traditional evangelicals cringe but also infused them with a sense of righteous anger." According to Fea, the speed with which evangelicals found themselves "marginalized and even threatened" is "difficult to overestimate." With important institutions seemingly "crumbling around them," they were increasingly worried about the health of American society. At that point, many Republican candidates were more than willing to exploit these fears for political gain.
In other ways, too, evangelicals will see Fea as one of their own. In discussing abortion, he states his own position plainly: "The taking of a human life in the womb via the practice of abortion is a horrific practice." Nor is he …

Source: Christianity Today Most Read