How community helps us discern our callings.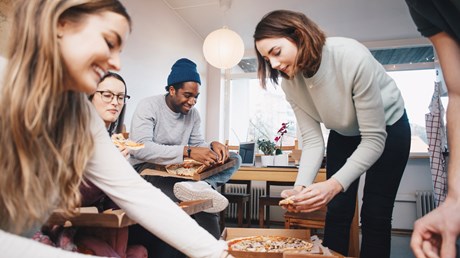 When the Emmy Awards honored Fred Rogers with a Lifetime Achievement Award in 1997, he did something that took everyone in the room off guard. The beloved public television star (and ordained Presbyterian minister) refused to make the moment about himself.
"So many people have helped me to come to this night," Rogers told the audience of celebrities. "Some of you are here; some are far away; some are even in heaven. All of us have special ones who have loved us into being. Would you just take, along with me, 10 seconds to think of the people who have helped you become who you are? Those who have cared about you and wanted what was best for you in life. Ten seconds of silence. I'll watch the time."
Those in the audience began their brief invitation for reflection with laughter. But by the time their 10 seconds were up, many were wiping their eyes.
"Whomever you've been thinking about, how pleased they must be to know the difference you feel they've made," Rogers said.
In a culture that lauds self-made success, a lasting gift of Fred Rogers's work is his subtle denial of the myth of self-sufficiency. He reminds us of what we all intuitively know after 10 seconds of silence: We arrive where we are because of God's work in our lives, manifest in the relationships in which God places and calls us.
Lives Lived Together
For the past few years, I've been working with university students at UC Berkeley to develop an integrated vision of vocation, one that refuses to bifurcate God's call on their lives from their work and relationships on a college campus or wherever their future leads. One unique aspect of our theological exploration of vocation is the insistence …

Source: Christianity Today Most Read