Why idolatry is an economic issue and what to do about it.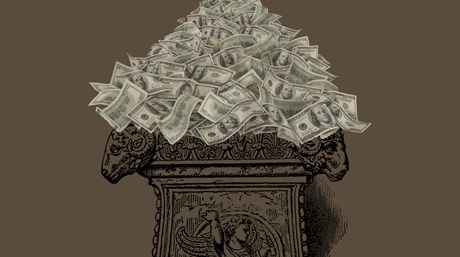 The tomatoes caught me off guard. Sitting in a small Anglican church in Kenya, I was prepared for the invitation to put some money in the offering plate. I was not prepared for tomatoes.
But that's what the members of that farming village brought. Tomatoes, avocadoes, maybe even a chicken or two, all brought up and placed on the altar. They brought the literal firstfruits of their small fields, the work of their hands given back to God in gratitude for his blessing on farm and farmer alike.
Perhaps a Christian approach to economic life begins on an altar covered with tomatoes, with worship that orients all of who we are toward the God who so loved the world that he gave. Indeed, worship is an economic issue. We are made in the image of a generous King, wired to reflect his generosity to the rest of creation.
Follow the Money
If worship is an economic issue, so is idolatry. When we read about the Israelites worshiping Baal in 1 Kings 18, for instance, we often imagine that some the Israelites simply fell in love with Baal statues. Perhaps a compelling Baal evangelist showed up and presented the 4 Spiritual Laws of Baal Worship. Maybe a traveling Baal apologist presented some compelling arguments in a public debate.
But the primary attraction to Baal worship certainly wasn't a pretty statue or a theological argument. It was an economic promise. The nations around Israel called Baal the "Rider on the Clouds" who could bring the rain and make all your economic problems go away. Little wonder, then, that when King Ahab chose to marry a woman from Baal territory, the farmers in Israel built a house for this new god and welcomed him to the neighborhood (1 Kings 16:31).
Of course, most Israelites didn't totally …

Source: Christianity Today Most Read