While I plunged further into darkness, a middle-school classmate kept lifting me up to God.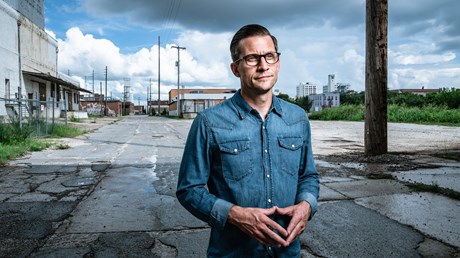 I started walking in the valley of the shadow of death at a very young age. In first grade, I became aware of something: What you see is not all there is.
The spiritual world was real to me, even as a child, because of my engagement with the occult. What started out as intrigue and entertainment quickly led to a lifestyle of encounter with the stuff of Hollywood lore. I remember watching a chair slide across the floor and a candle floating off the coffee table. I saw things no one should see.
You can't immerse yourself in the occult for long without going on a journey you cannot reverse on your own. I had night terrors so bad, so horrific, I was tormented for years. In junior high, the anxiety produced ulcers. Specialists couldn't confirm what was wrong. I felt trapped, breathless, and alone.
My experiences with the supernatural led me on a quest for answers. In many ways, I was a typical boy, the kind who enjoyed basketball, skateboarding, and GI Joe cartoons. But I also studied religion and philosophy. I was gripped by an all-consuming desire to find a language or a belief system to describe my regular interactions with the unseen world.
'Pray for That Young Man'
Eighth grade was a pivotal year. On the outside, I looked like a quintessential American teenager. Taking a break from the occult, I enjoyed school, engaged in athletics, and certainly didn't look like someone immersed in darkness.
One day, as I was standing at my school locker, a female classmate sensed in her heart that God was whispering my name. (I wouldn't learn this, of course, until later.) The whisper said something to the effect of, "Pray for that young man. You are going to marry him one day." Some of life's …

Source: Christianity Today Most Read