How caring for miscarried children offers a radically pro-life vision.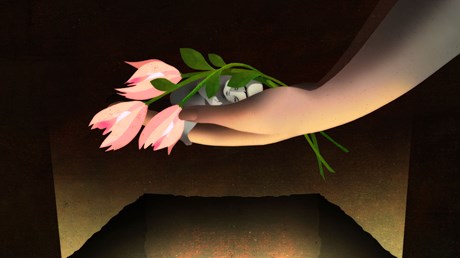 In July 2017, my husband and I lost a son to miscarriage 14 weeks into my pregnancy. Earlier that year, we had experienced a miscarriage at around 6 weeks. Both miscarriages were devastating, but our second loss was different in one respect: This time we had seen a body.
My pregnancy complications required frequent sonograms, so by the time we lost our second baby, I'd seen him a dozen times. We went from watching the faintest flicker of a heartbeat to seeing arms, legs, hands, feet, and what my favorite doctor referred to as "an absolutely perfect little face." For weeks, we prayed and waited. We watched our baby grow, twirl, and, once, even wave. Right before we lost our son, things were looking very hopeful; my body seemed to be getting better. At the 13-week sonogram appointment, my husband saw our son bouncing around and exclaimed (far too loudly for a medical office), "Oh my gosh, that's a baby!"
Then, a week later, we found out our baby had died. I had a high risk of hemorrhage due to complications from my first miscarriage, so doctors strongly advised that I undergo a dilation and curettage, a procedure where the walls of the uterus are scraped to remove the placenta and the fetus. We met with the physician who would perform the task; hot tears filled my eyes as I stammered out the question that was nearest to my broken heart: What will happen to the body?
The doctor explained that our "discarded tissue" would go to genetic testing and pathology, where medical experts would try to pinpoint a reason for the miscarriage. I responded, "After that, what happens? Can we have the baby's body?"
The doctor recoiled from my question with a look of confusion and …

Source: Christianity Today Most Read