How "casting all my cares upon him" got this Karen girl from Burma to America.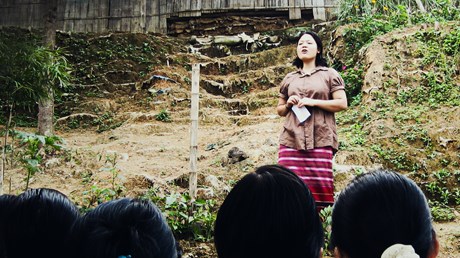 I walked for nine days in my slippers in the deep forest. My father carried all the food. My mom carried my one-year-old brother. My other younger siblings had to walk by themselves. I carried all the cookware, some blankets, and clothes for them.
After seven days, we reached the Tenasserim River and crossed on a big boat. We were climbing the mountain quickly, and I heard the gunfire again. I climbed up the mountain as fast as I could. When I reached the top, I put down all my things and went back to my parents and picked up my younger brother. I carried him piggyback; he held my neck tightly when I had to pull myself up the mountain.
Since I was a little girl, my favorite Bible verse has been 1 Peter 5:7–9:
"Cast all your anxiety on him because he cares for you. Be alert and of sober mind. Your enemy the devil prowls around like a roaring lion looking for someone to devour. Resist him, standing firm in the faith, because you know that the family of believers throughout the world is undergoing the same kind of sufferings" (NIV).
When we suffer as God's children, we know we are not alone. He is with us, and our brothers and sisters around the world are with us in prayer and solidarity. We testify to share that truth.
I was very tired carrying my brother while climbing the mountain, so I spoke to myself, "Sunday, you cannot die here. You must finish your high school, go to college, speak for your people, and tell the world what you have been through and who you are."
This is who I am. This is what God has done for me.
I was born in Burma, but I am not Burmese. I am an ethnic Karen, one of more than 10 ethnic minority groups in Burma. The Karen are one of the largest groups among the two million …

Source: Christianity Today Most Read