Until God showed me that there's more to life than making people laugh.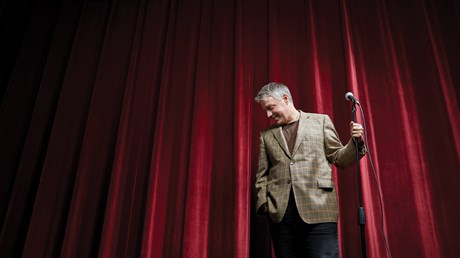 For the longest time, comedy was my religion. As a stand-up comedian, I performed in bars, theaters, and restaurants that functioned, essentially, as my churches. If you asked about my theological perspective, I would have replied that I was a comedian first and an atheist second. For me, a Christian life and a comedian's life were polar opposites. I was only interested in getting to the next show and making people laugh.
I grew up in a Methodist church, begrudgingly participating in the yearly Christmas pageant. As one of the three wise men, my costume consisted of an oversized men's bathrobe that dragged behind my feet like a wedding veil made of shag carpeting. We had no frankincense, so I carried a bottle of cologne in a decorative glass shaped like a pirate ship. The scent of Old Spice would hover around me as I progressed past the stained-glass windows toward the manger scene by the altar.
Nothing specific happened to scar my view of religion. I simply drifted away. In my eyes, I was a good person, and that was all that mattered. Every now and then, I would try attending church or reading the Bible, but the commitment was always short-lived. Whenever I got to Matthew 10:37 ("Anyone who loves their father or mother more than me is not worthy of me"), I would close the book and walk away. The truth is, I was uneasy with the concept of making God the most important thing in my life—more important than your spouse, your child, your dog, or your Xbox. That type of thinking was anathema to me. I was quite clear on my goal in life: I wanted to be a comedian.
Nothing to Say
I attended the (now-closed) Second City Training Center in Cleveland, where I studied improv theater and comedic writing. After …

Source: Christianity Today Most Read