Despite our best efforts to understand his ways, he won't be bound by our tidy notions of divine etiquette.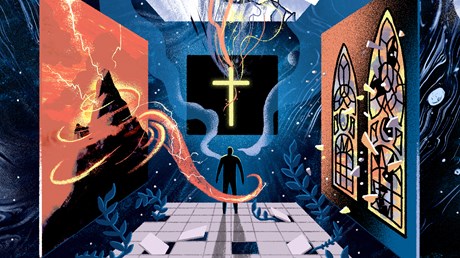 About 25 years ago, while neck-deep in my seminary training, I set my sights on a rather high goal: I'd learn the Book of Psalms by heart. Not in a year. Not even in five years. But as long as it took. Inch by inch, I'd explore these ancient hymns, climbing every hill and sinking into every valley, immersing myself in their literary landscape until they became part of me. I settled on a translation, found a chart for working through all 150 psalms per month, and began the journey.
Now, a quarter-century later, I'm still on that journey, that "long obedience in the same direction," as Eugene Peterson put it. But one thing I know for certain: The long, prayerful, exploring obedience has benefited me in ways I cannot even begin to put into words.
It has also, more than once, thoroughly unnerved me.
Alongside lofty praise and soaring hallelujahs is raw lament, bleeding with anguish. Next door to G-rated prayers are harrowing petitions laced with graphic scenes of violence. The full range of human emotions—good, bad, and ugly—undulate through these songs of Israel. As shocking as the human element is, however, it's nothing compared with the God we encounter. The Lord is my shepherd (23:1), but he is also an arm-breaker (10:15) and a teeth-shatterer (3:7). The Lord is my light (27:1), but he's also pushed me into the darkest depths of the pit (88:6).
In one arresting metaphor, after being full of wrath, jettisoning his rebellious people, and falling asleep, God finally wakes up like a drunken soldier overcome by wine (78:65). Such actions and images, staring out from the pages of the Bible itself, are unsettling to most of us. They don't fit into our neat and tidy boxes of …

Source: Christianity Today Most Read