How a radical Hindu movement has persecuted the church and the country's other religious minorities.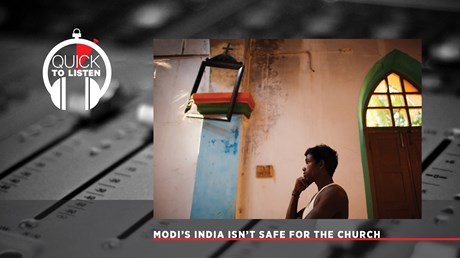 On Thursday, Indians will learn the results of their country's massive national elections. For the past five years, the country has been governed by Prime Minister Narendra Modi and the Bharatiya Janata Party (BJP). Despite Modi's popularity among much of the country's Hindu population, his tenure in office has proved difficult for India's religious minorities. The Hindutva movement—which is made up of extremists who believe that all Indians must be Hindu—have gone after Christians, Muslims, Sikhs, and other religious minorities.
"Christians in India are not the only ones facing the brunt of nationalism," Vijayesh Lal, the general secretary of the Evangelical Fellowship of India, told CT. "We know about Muslims being lynched. … That would also be the Communists, who actually subscribe to no religion at all. That would also be the Dalits,or the untouchables."
Since 2014, India has risen 11 spots on Open Doors's World Watch List, and last year the advocacy group said that more than 12,000 Christians were attacked. However, at the same time—as CT found in a 2016 cover story—Indian Christians leaders like Lal remain convinced that church growth is outpacing persecution.
Lal joined CT digital media producer Morgan Lee and theology editor Caleb Lindgren to discuss why he is not optimistic about the election results, regardless of the victor; why the Indian government denies Christians and Muslims affirmative action; and why conversion is complicated.
This episode of Quick to Listen is brought to you in part by Kinship United, a non-profit organization working with every day superheroes like you to rescue orphans and widows from abuse, trafficking, …

Source: Christianity Today Most Read