What spirituality has to do with place, creativity, community, and subversion.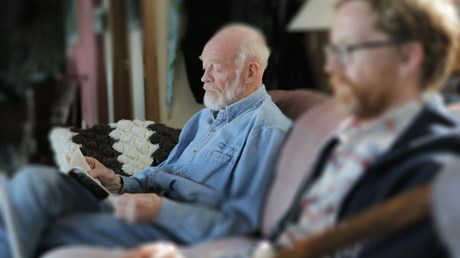 If Eugene H. Peterson was not a Presbyterian, he might be a monk. His best-known books, from A Long Obedience in the Same Direction to Earth and Altar, deal with the practice of Christian spirituality.
And Eugene is of a monastic demeanor. He is bearded, balding, and thin. He has a quiet, raspy voice that sounds as if it belongs to a man who has weathered many dark nights of the soul. His is the settled and serene air that comes from facing and overcoming our innate fear of silence and solitude, so that when he speaks, the hoarse, gentle words seem to rise from a genuine depth.
But monastic demeanor aside, Peterson is a thoroughgoing Protestant, enough so to be pastor of Christ Our King Presbyterian Church in Bel Air, Maryland. He decided early in his work never to pastor a church composed of more people than he could remember by name. He and his wife, Jan, have been at Christ Our King Church, a PCUSA congregation of some 300 members, for 23 years.
Beginning especially with the 1980 publication of A Long Obedience, Eugene has earned a widespread (if appropriately low-key) reputation as a thoughtful, articulate pastor who understands the spiritual disciplines and can communicate their practice.
He pastors and writes from a scholarly background, having mastered the biblical languages and done doctoral-level work with the magisterial William F. Albright. But none of the learning is for show. Peterson is, in fact, uncomfortable with persistent questions about his books, insisting that his identity and aim in life is merely being a dependable pastor. In a world of mounting hype and glitter, he has dedicated himself to the unsung promotion of honesty, simplicity, and substance.
Last September, I spent three days with Eugene and Jan. …

Source: Christianity Today Most Read