General Roger Brady (USAF, Ret.) thinks soldiers are becoming more religious but the armed forces are more uncertain about religious expression.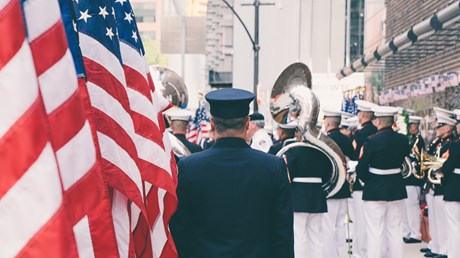 The issue of religious tolerance has created challenging times for the United States military. All the service branches are trying to protect the rights of both those with religious beliefs and those with none. The choices made by military leaders exist in a pressure-packed environment framed by their oath of service, the Constitution, military guidelines, public opinion, and their own personal beliefs.
Recently, Brig. Gen. E. John Teichert, commander of Edwards Air Force Base in Southern California, became the focus of a Military Religious Freedom Foundation (MRFF) demand for an official investigation into his conduct, specifically a personal website that calls the nation to pray for itself and its future. The MRFF, led by former Air Force captain and activist attorney Michael L. (Mikey) Weinstein, alleges that Teichert is violating the Defense Department policy concerning religious proselytizing.
Retired Four-Star Gen. Roger A. Brady has had discussions with Weinstein regarding these kinds of religious issues and pressures. He was once the personnel director for all Air Force personnel, and he finished his 41 years of duty in 2011 as 33rd commander of all US Air Forces in Europe and led the joint NATO Allied Command from Ramstein, Germany. General Brady is a longtime Christian who now sits on the board of trustees for Mid-Atlantic Christian University and serves as the deacon over adult education at his local congregation of the Church of Christ.
Brady led the 2005 inquiry into whether religious intolerance and discrimination were occurring at the United States Air Force Academy. Brady's team found no outright or intentional religious discrimination, although it did discover some overzealous evangelism and a lack of …

Source: Christianity Today Most Read