Orientation is not necessarily sexual, Nate Collins says.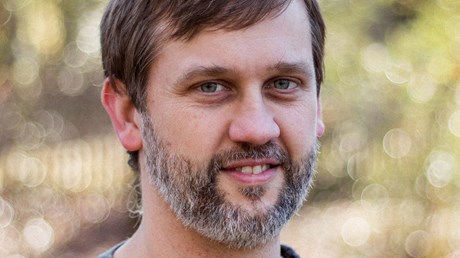 The Revoice Conference, which begins tomorrow, has generated a great deal of conversation among theologically conservative Christians. The gathering, according to its website, is about "supporting, encouraging, and empowering gay, lesbian, same-sex-attracted, and other LGBT Christians so they can flourish while observing the historic, Christian doctrine of marriage and sexuality." Much of the controversy has swirled around terms used by proponents to describe who the conference is for and what its goals are.
Christianity Today editor in chief Mark Galli asked Revoice founder Nate Collins about the dispute. Collins is former instructor of New Testament interpretation at the Southern Baptist Theological Seminary in Louisville, Kentucky, and a leader at the Center for Faith, Sexuality, and Gender. He is also author of All But Invisible: Exploring Identity Questions at the Intersection of Faith, Gender, and Sexuality (Zondervan, 2017).
What exactly is Revoice?
Revoice is an organization putting on a conference, and the idea behind the conference is to provide a place for conservative LGBT Christians, people who are non-straight and perhaps experienced gender dysphoria of some kind, to gather and to be supported and loved in their attempt to live a long and costly obedience. We all believe that the Bible teaches a traditional, historic understanding of sexuality in marriage, and so we are not attempting in any way to redefine any of those doctrines. We're trying to live within the bounds of historic Christian teaching about sexuality and gender. But we find difficulty doing that for a lot of reasons.
What are the most common misconceptions of Revoice?
Several people try and make the claim that we're on a slippery …

Source: Christianity Today Most Read