As he retires from public ministry, the 'Celebration of Discipline' author reflects on the heart of spiritual formation.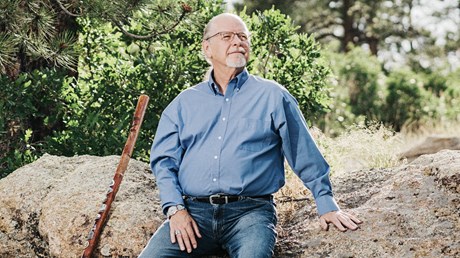 Richard Foster wrote Celebration of Discipline 40 years ago as a young pastor. The book—which has sold over 2 million copies and has been translated into 25 languages—launched a ministry of speaking, writing, and teaching on spiritual formation and the classic spiritual disciplines of the Christian life. Foster founded and led Renovaré, a spiritual formation ministry, up until 2008 when he retired from his role as president to make space for new leadership. Foster, now 76, will retire from his public speaking ministry after wrapping up a tour this year.
CT editor Kelli Trujillo sat down with Foster at his Colorado home to discuss how the Christian spirituality landscape has changed—and how he's changed—over his decades of ministry.
You've spent more than four decades of ministry focusing on spiritual formation. At its core, what does spiritual formation involve?
It's important to be clear what we're talking about when we say "spiritual formation." Consider Paul's words in Galatians 4:19: "I am in travail until Christ be formed in you." The word travail is a birthing image. He's saying, essentially, "I am in the pain of childbirth until Christ is formed in you." That's a biblical, foundational way of thinking about spiritual formation.
I think of a couple of old hymns that speak to this. The first is "Rock of Ages"—"Let the water and the blood, from thy wounded side which flowed, be of sin the double cure." That's the key—the "double cure." It then says "Save from wrath," which is forgiveness, justification. But it goes on: "Save from wrath and make …

Source: Christianity Today Most Read