Christians' eagerness to understand God's will in real time can cause them to overlook fundamental biblical and divine principles.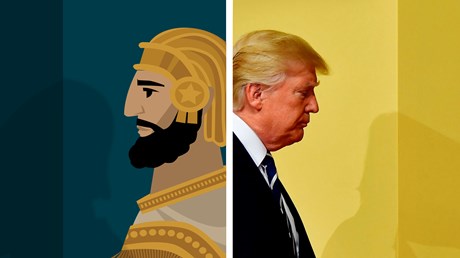 Benjamin Netanyahu wasn't the first to compare Donald Trump to the ancient Persian leader, Cyrus. But he's probably been the most prominent. Following the 45th president's announcement earlier this year that the US embassy in Israel would move from Tel Aviv to Jerusalem, the Israeli Prime Minister remarked, "I want to tell you that the Jewish people have a long memory, so we remember the proclamation of the great king, Cyrus the Great, Persian king 2,500 years ago. He proclaimed that the Jewish exiles in Babylon could come back and rebuild our Temple in Jerusalem."
Netanyahu's suggestion that Trump may be compared to Cyrus because of his specific policies affecting the Jewish community gives his analogy a unique twist. But American evangelicals have compared Trump to the Persian ruler since the Republican primaries. (This claim even made an appearance in the recently released film, TheTrump Prophecy.) They argue that just as Cyrus, scarcely a devotee of YHWH the God of Israel, served as God's agent by authorizing Jewish exiles in Babylon to return to the Promised Land and to rebuild the temple to YHWH, so the narcissistic and morally flawed Trump can advance the causes of the evangelical community—and by extension, the country.
Who was Cyrus?
Cyrus the Great was the sixth-century B.C. emperor who made Persia great—indeed the greatest empire in history to that point—by taking over and expanding the empire of the Babylonians. Cyrus plays a critical role in the Bible's story of YHWH's relationship with his people Israel. All of YHWH's covenant promises seem to have been dashed in 586 B.C., when Nebuchadnezzar and his Babylonian armies conquered Jerusalem, …

Source: Christianity Today Most Read