Research shows our society's widespread isolation. What's the church's role in alleviating it?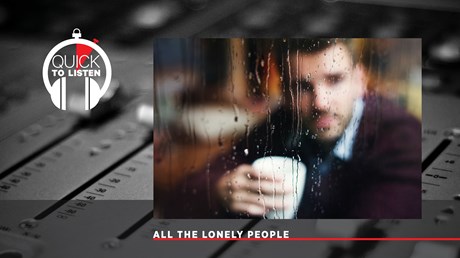 Americans are lonely. So suggests data released this year by health insurer Cigna, which surveyed 20,000 Americans. According to their findings:
Nearly 50 percent of respondents report that they felt alone or left out always or sometimes.
More than half of Americans 56 percent—reported that they sometimes or always felt like the people around them were "not necessarily with them."
40 percent of Americans said they "lack companionship," that they are "isolated from others," and that "relationships aren't meaningful."
While technology, living situations, and neighborhood have all played roles in perpetuating these feelings of loneliness, arguably so have many of churches, says Ashley Hales, the author of Finding Holy in the Suburbs: Living Faithfully in the Land of Too Much.
"There's a sense that our church structures have made people more lonely," said Hales. "People can just come as they please. If they're really unknown, they're not getting plugged into any smaller forms of community."
Part of it is changing cultural expectations of church, said Hales.
"We want church to be this customizable religious experience, instead of saying this is the bride of Christ, it's going to be painful to be a part of, that it's one of the only organizations where people of every tribe, tongue, and nation are getting together amidst different socioeconomic and racial differences," she said. "
Hales joined digital media producer Morgan Lee and editor in chief Mark Galli to discuss the structural and existential reasons for our loneliness, how to be a good neighbor, and why it's the small patterns of our life that …

Source: Christianity Today Most Read