We have much to learn from the Catholic activist and writer.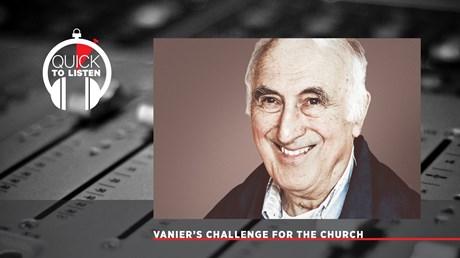 Last week, the Canadian Catholic leader Jean Vanier died at the age of 90. Born into a privileged family, Vanier's life took an unexpected turn when he founded L'Arche, an international network of communities for people with and without intellectual and developmental disabilities.
As Bethany McKinney Fox, the founding pastor of a church inspired by L'Arche wrote for CT:
"While many ministries involving people with intellectual disabilities began with a clear separation between those being helped and those doing the helping, slowly the paradigm has shifted toward Vanier's approach at L'Arche, where all are called to share their gifts as members of one body of Christ, doing the work of the gospel together."
In addition to his legacy of work with intentional communities, Vanier was also a prolific author.
"The themes that constitute those books—peace, peacemaking, community, community building, communion—are pretty consistent," said Michael Higgins, the author of Jean Vanier: Logician of the Heart. "They undergo various kind of elaborations if you like, various more sophisticated iterations, but they are fundamentally the same themes built on the radical simplicity of the gospel that calls for us to live lives for others."
Higgins joined digital media producer Morgan Lee and editor in chief Mark Galli to discuss the counterculturally private personal life of Jean Vanier, his relationship with Henri Nouwen, and what evangelicals should learn from this deeply Catholic intellectual and practioner.
This episode of Quick to Listen is brought to you by the Truce Podcast. Truce dives deep inside church history and culture to explore how we got here and how we …

Source: Christianity Today Most Read