One is scholarly with a big cable budget, the other is gritty and crowdfunded.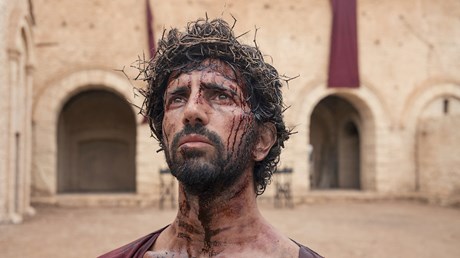 This month brings two profoundly different takes on the biblical Gospels to the small screen. In Jesus: His Life, which premiered Monday and runs through Easter, History seeks to commemorate the Lenten season with a reverent, fast-paced, inclusive miniseries.
"The story of Jesus is one of the cornerstones of Western civilization," says Mary Donahue, executive producer of the series and senior vice president of programming for History. "Our production partners at Nutopia came to us with this new angle on the life of Jesus. As a network always looking for fresh ways to tell great stories, we were fascinated by the concept."
History's docudrama series combines dramatic vignettes filmed on location in Morocco with a wide spectrum of talking-head faith scholars. Its narrative scenes bring to life first-century Judea with desert vistas, elaborate palace sets, and other fitting locales over eight episodes.
Meanwhile, the other TV project has less emphasis on visual spectacle and more on character development. Independent show The Chosen is already turning heads in Hollywood. When upstart platform VidAngel Studios pitched the concept to followers online, they brought in $11 million—a new crowdfunding record for any media project.
Debuting online April 15, The Chosen will reimagine the radical ministry of Christ upending societal norms in a multi-season show. Creators aim for it to be faithful to the biblical text while gritty in tone. "A lot of Jesus projects on-screen are intentionally formal, which often means emotionally detached and less human," says writer/director Dallas Jenkins.
"We're striving in this show to lift the curtain and get to what is authentic and real," …

Source: Christianity Today Most Read