Job 13:15 is more anguished—and encouraging—in its original wording.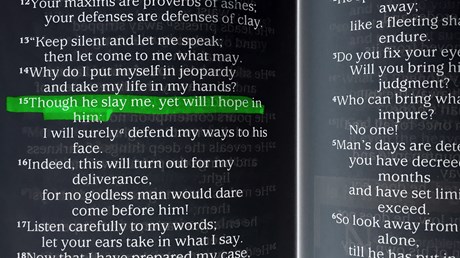 "Oh, Job is so powerful!" said a man I had just met. We had found common ground discussing the congregations where we worshiped. After sharing what we did for work, I told him I had written a book on Job, and he was excited to talk to me about Job's importance to him: "After all he suffered, Job says, 'Though he slay me, yet will I trust him.' "
Others have quoted those well-beloved words to me to demonstrate that, in spite of severe losses, Job continues to trust God. A longtime friend and professional colleague once told me that what he loved about Job was that very statement. Unfortunately the common translation of that verse, Job 13:15, misrepresents Job.
I did not consider it appropriate to challenge these men in either situation, but I cringe when people cite those words from Job. They reflect a mistranslation of Job's words that has led some to misunderstand the entire book.
Challenging long-held ideas about a well-beloved verse can make believers feel uneasy or like Scripture itself is under attack. But every Christian should want to know the truth of Scripture. Even if it disturbs us, knowing what Job says should engage us all. A careful look at the wording will show why this is important, how various Bible versions translate the text, and how this text fits into its context to give a new appreciation for the full message of Job.
Job's Protest
Contrary to how many people remember the Book of Job, throughout most of the book, Job articulates a strong protest to God against his undeserved suffering. In chapter 3, for example, in defiance of God's gift of life and in deep depression, Job seeks the peace of death over the suffering of his life. His speech triggers …

Source: Christianity Today Most Read