The more the church recognizes our worth, the better we can integrate into the church.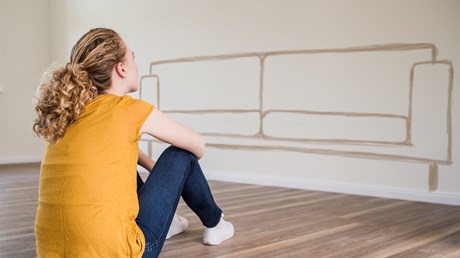 I recently found myself in tears over a beautiful white couch. Someone had kindly offered this couch to me for free, but I had no way to pick it up, transport it, and store it. After more than a week of text messages, face-to-face requests, and social media posts, I found myself unable to move the couch the night before the deadline I had been given.
Here is a text I sent to a friend that night:
I'm so tired of being so dependent on other people. So tired of being vulnerable and asking for help and being made to feel/making myself feel like a burden. I'm so tired of how crushing the need for a truck and strong muscles is on a recurring basis. I was so excited about this couch, and now I'm crying not because I probably can't get the couch, but because all day I laid myself out there and asked for what I cannot do and was not treated with gentleness and understanding. I'm so tired of doing daily life alone.
Doing life alone. I'm far from the only single Christian who is regularly exhausted by it. Singles who have great family and friends and churches still regularly experience loneliness and feelings of powerlessness. From ordinary Saturdays to life-changing events, singleness can often make you feel like you are hiding in plain sight.
This is not how it's supposed to be. In the kingdom of God, partnership is not reserved for married couples. The Scriptures consistently paint a picture of interconnected community, showing us a way of life where our unique personhood matters and where we find ourselves in day-in and day-out partnership with others. But sadly, the American church has often adopted a vision of singleness that emphasizes independence over partnership, excusing married people …

Source: Christianity Today Most Read