Jesus built his church from a group of enemies. Why did I love to sting mine?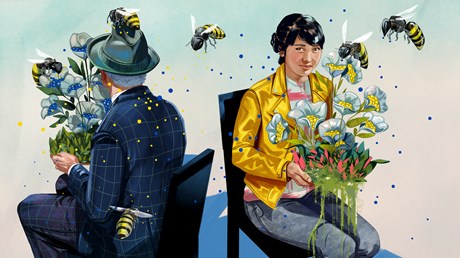 On a typical Thanksgiving I would have been in the house with my family, putting the final touches on the meal. We might even have talked about religion and politics as we worked, but not in a bad dinner conversation kind of way. For the better part of a decade, we had all read the same theologians, admired the same pundits, and echoed each other's opinions on social issues.
On the Thanksgiving two weeks after the 2016 election, however, I stood alone on my deck and wept. Five years earlier, God had begun using a series of major life events to resurrect long-buried aspects of my story. In the process, I had come to see the world very differently than my family did—and come to see certain family members as something like wrong-headed adversaries.
Now, where I saw catastrophe, all they could see was me "overreacting." I felt alienated and disoriented.
As I struggled to make sense of my predicament, Jesus' cryptic warning to his disciples came to mind: "Do not suppose that I have come to bring peace to the earth. I did not come to bring peace, but a sword. For I have come to turn 'a man against his father, a daughter against her mother, a daughter-in-law against her mother-in-law—a man's enemies will be the members of his own household' " (Matt. 10:34–36).
Initially it seems ironic that Jesus, whom we hail as the Prince of Peace, announces that he will disturb the peace. But I've learned that what he disturbs is an artificial peace, one achieved through conformity and uniformity—foundational characteristics of the Tower of Babel (Gen. 11:1–4). Since it depends on establishing and maintaining sameness, this peace can't offer a violent …

Source: Christianity Today Most Read