A look at America's favorite God-and-country tunes, from Revolutionary War anthems to a Trump-inspired musical number.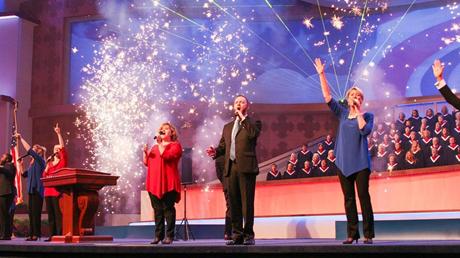 At Sunday services this weekend, churches across the country will direct congregants to flip to the section of classic patriotic songs in their hymnals or display lyrics to more recent nation-centric tunes like Lee Greenwood's "God Bless the USA," Chris Tomlin's "America," or even "Make America Great Again," a song composed at First Baptist Church of Dallas using President Trump's famous slogan.
Despite ongoing concerns over conflating worship of God with worship of country, the majority of churches in the United States mark the Fourth of July in song—a tradition that in some places goes back to the years surrounding America's first Independence Day.
LifeWay Research found that two-thirds of US churches include America-themed music in worship services around the holiday. The top patriotic songs sung in churches, ranked by Christian Copyright Licensing International (CCLI), span contemporary contributions and American classics:
1. "America the Beautiful" – Katharine Lee Bates and Samuel A. Ward
The lyrics first appeared as a poem in the Fourth of July edition of the weekly church publication The Congregationalist in 1895.
2. "Mine Eyes Have Seen the Glory (Battle Hymn of the Republic)" – Julia Ward Howe
The abolitionist's famous tune almost became America's national anthem. Despite the theological references throughout, it's now seen as more of a mishmash of Christian doctrine.
3. "My Country 'Tis of Thee (America)" – Samuel Francis Smith
The fourth verse in the Boston Baptist's famous song goes, "Our fathers' God to Thee, author of liberty, to Thee we sing / Long may our …

Source: Christianity Today Most Read