How a retired Anglican priest and a young church music director created Liturgical Folk.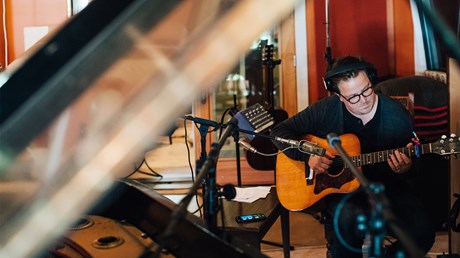 In 2015, when retired Anglican priest Nelson Koscheski shared one of his religious poems with the young music director at his Anglican church in Dallas, he never expected the poem to become a folk song. Koscheski thought the poem, which is about the Transfiguration, might make a good hymn, but would probably end up like most of his others—glanced at perfunctorily and then disregarded.
But the music director, Ryan Flanigan, was so moved by the poem's beauty that he set it to a simple folk tune, which he incorporated into the church's Transfiguration Day service.
"For the first time, I realized that my poetry was a form of ministry," Koscheski says.
Since then, Flanigan, now 39, and Koscheski, 77, have written almost 50 hymns together. Under Flanigan's direction, the cross-generational partnership has grown into a multifaceted folk music project. The two named the project Liturgical Folk, and in 2017 released their first two albums through the producer Isaac Wardell, who works with acclaimed religious musicians like Josh Garrels and Sandra McCracken. Liturgical Folk released their third album last fall and their fourth this February.
They are not alone. Rather, they are part of a growing number of Anglican musicians who are rearranging traditional hymns, adapting liturgy to contemporary music and writing songs of their own, says Bruce Benedict, the chaplain of worship and arts at Hope College in Michigan and founder of Cardiphonia, which resources the greater church with liturgical music.
"Liturgical Folk is really just sort of one group of folks that have been doing this for 10 or 15 years," he says.
How did this movement come about?
In the late 1970s, a group of Anglican churches …

Source: Christianity Today Most Read