Finding common ground so that the Virgin Mary becomes less of a battleground.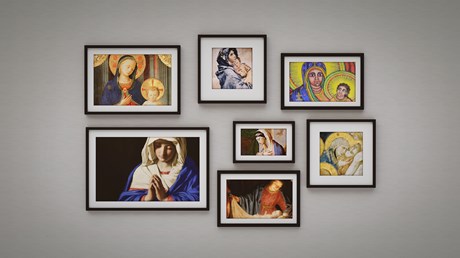 Many pastors feel nervous as the third Sunday in Advent, "Mary Sunday," rolls around. What congregant will turn out to be suspicious of any unusual respect shown for her? What visiting Catholic will be mystified or put off by a cautious and understated Protestant treatment? Should a preacher reckon the service a success if both extremes come away disappointed? How can it be that Jesus' own mother has become the church's most polarizing figure? And more importantly, what can we do about that?
Mother of all stereotypes
Let's begin with a sketch of two Marys.
"Mary A"
This is the Mary of modest Protestant tradition, a humble, nondescript young virgin from the tribe of Judah. One day she got an extraordinary visit from an angel who told her that she would bear the Son of God. This wouldn't happen in the usual natural way but by the sheer creating work of the Holy Spirit. She put her trust in the angel's good news. She became a faithful wife and mother who protected and raised her son in sometimes extreme circumstances. At times Jesus surprised and even shocked her. Occasionally their relationship even seemed strained. But she stayed with him, all the way to the cross. She was among his faithful disciples in the Book of Acts. We don't hear nearly as much about her as the apostles, let alone her Son. Nevertheless, she is still a beloved character in his story, especially during the Christmas season when we remember his birth.
Mary A is sparsely and cautiously sketched out, with very little speculation. She is basically what's in the Bible about Mary. Indeed, Mary A's fans speculate less about her than other biblical figures. They don't mind conjecturing about …

Source: Christianity Today Most Read