Her extravagant gesture exemplifies utter devotion.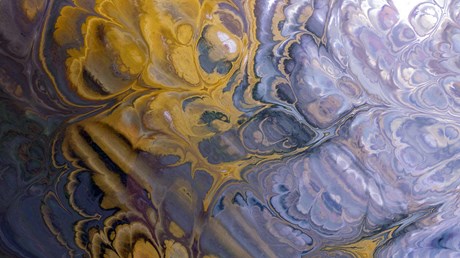 "Then Mary took about a pint of pure nard, an expensive perfume; she poured it on Jesus' feet and wiped his feet with her hair. And the house was filled with the fragrance of the perfume" (John 12:3).
In a scene of generous hospitality and intimate fellowship, Jesus, Mary, Martha, and Lazarus have gathered in the afterglow of Lazarus' return to life (John 12:1-11). Lazarus is reclining at the table with Jesus. Martha, ever the active servant, is serving food. Artists depicting this scene reach instinctively for the warmest possible palette of colors and pain themselves to depict facial expressions of an almost unimaginable degree of warm-hearted tenderness.
Then Mary offers her gesture of devotion to Jesus, lavishing a full pint of exquisite perfume over Jesus' feet and upending conventions of decorum by unfurling her hair to wipe them. Just a few days before, Jesus, Mary, and Martha were confronted by the stench of Lazarus' decaying body. Now, with Lazarus, they are basking in the aroma of luxurious perfume.
Following three years of ministry in which observers responded to Jesus in such oppositional and awkward ways, what a remarkable picture of true devotion this is—Mary's unashamed, humble, extravagant gesture. Nothing here resembles a grudging obeisance to a distant deity or an agreeable, but half-hearted engagement in typical religious protocols. This is whole-hearted adoration of a loving Lord.
Just a few verses into the story, we can already sense God's call to each of us to follow Mary's lead, to become disciples of utter of devotion to Jesus. Korean songwriter Chung Kwan Park invites worshipers to identify with Mary's adoration by singing: "to my …

Source: Christianity Today Most Read