Perplexed by America on Syria, Russian evangelicals and Middle East Christians debate if Moscow really cares.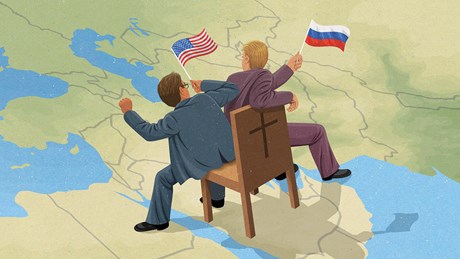 War was swirling in Syria. Rebels were pressing. And Maan Bitar was the only hope for American help.
"Because I am evangelical, everyone thinks I have channels of communication," said the pastor of the Presbyterian Church in Mhardeh. "Syrians believe the United States has the power to stop the conflict—if it wants to."
In the early years of the civil war, Bitar's Orthodox neighbors were desperate to convince the US and its allies to end support of rebel forces. Mhardeh, a Christian city 165 miles north of Damascus, was being shelled regularly from across the Orontes River.
But salvation came from a different source. Russian airpower turned the tide, and Syrian government-aligned troops drove the rebels from the area.
Russian intervention on behalf of Mideast Christians has pricked the conscience of many American evangelicals. Long conditioned to Cold War enmity, the question is entertained: Are they the good guys in the cradle of Christianity? Or are persecuted Christians just a handy excuse for political interests?
"The news tells us Russian troops are bringing peace to the region, said Vitaly Vlasenko, ambassador-at-large for the Russian Evangelical Alliance. "Maybe this is propaganda, but we don't hear anything else."
Created in 2003, the alliance represents all evangelical denominations in Russia. Before assuming his position, Vlasenko worked 11 years with local Baptists in their external relations department.
President Vladimir Putin, recently reelected with evangelical support, "is seen as playing a big role to protect the Christian faith," said Vlasenko, "and a sense of international brotherhood is deep within the heart of Russian Christians." …

Source: Christianity Today Most Read