Four years of political spats on campus have prepared us for partisan divides and controversy.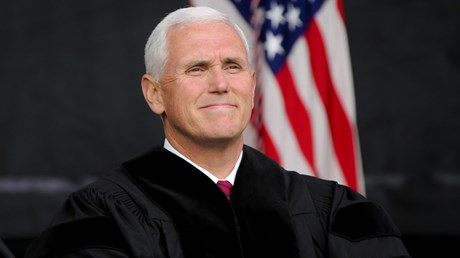 Taylor University recently made national news with its announcement that Vice President Mike Pence will deliver this year's commencement address—spurring backlash from students, alumni, parents, and faculty.
This is not the only recent political clash to put the small evangelical college in the spotlight. Last year, an anonymous newspaper titled Excalibur was created and distributed by a group of Taylor faculty who wanted to take a stand against the increasing liberalization that they perceived on campus.
In many ways, it is fitting that the 2019 commencement has become so controversial. During their time at Taylor, this graduating class has experienced a trial by fire that few others have. As a member of the class of 2020, I have watched the class before me face these issues with conviction, dedicated pursuit of the truth, and a growing sense of grace and love for those holding the opposite view.
Generations of college students have encountered political issues and passions anew on campus, but the past four years have been particularly politicized. As freshmen, they were thrown into the chaos of the primaries, then the election of one of the most polarizing leaders in US history. President Trump's election has led to debates and soul-searching among young evangelicals in particular.
Students still tell stories of the ugly conversations that took place during those years, as they debated the NFL's Take a Knee movement—which led to controversy over dozens of undergrads kneeling at a basketball game—and conflicting approaches to addressing racism—with dueling campus newspaper op-eds on whether our discussions of race actually make a difference.
As emotional wounds slowly healed, the stitches …

Source: Christianity Today Most Read