Underneath the gentle smile and neighborly manner, he was driven by anger at the way the world treated children.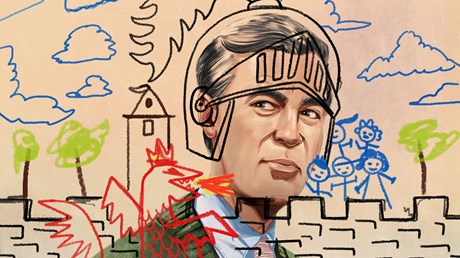 Fred Rogers—perhaps you know him by the title "Mister"—is a cultural icon, a walking meme, a man forever frozen in sweaters and white sneakers, a gentle smile on his face. You can paint him in a variety of hues: as a saint, as a genius, as otherworldly, as too soft and sentimental. Quite possibly he was none of these things, but something infinitely more valuable and complex: a human being, made in the image of God, who had a near crystal-
clear view of his vocation.
What makes Mr. Rogers worthy of a detailed biography is precisely how unique this strong sense of calling remains in our world, especially outside of traditional religious institutions or authorities. But early on in The Good Neighbor: The Life and Work of Fred Rogers, author Maxwell King identifies the central miracle of his life: that he successfully married the sense of duty and service to God of his Presbyterian faith with the call of the artist, educator, and creator.
Truthful About Feelings
Fred Rogers was the very definition of bivocational, although I wonder if he would agree with that assessment. He went to college and got a degree in music, but it was his first encounter with the new format of television that changed his life. He recalled watching a man get a pie thrown in his face as the audience laughed. He was incensed. This was supposed to entertain children? Given Rogers's kindly public persona, it's easy to forget the simple truth that anger over how the world treated children was a driving force in his life.
Rogers was the first to truly envision a world where technology could be used to educate children, to help them develop a healthy sense of themselves as both loved and safe. He wanted to equip them to play …

Source: Christianity Today Most Read