The ministry's president and CEO bids farewell.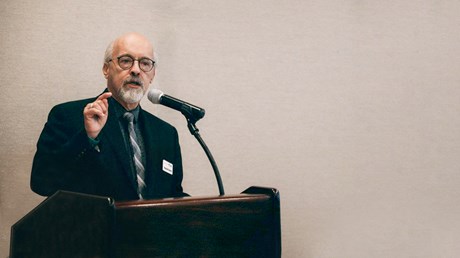 On May 1, Harold Smith will retire as president and CEO of Christianity Today and assume the honorary title of president emeritus. In drawing his administration to a close, Smith addressed Christianity Today's board of directors in Charlotte, North Carolina, on April 23 on both the need to remain vision focused and on the challenges seeking to redirect that vision in the days ahead. The following are his edited remarks.
These are truly exciting days for the ministry of Christianity Today. The selection and arrival of Tim Dalrymple as our next chief executive has brought me a sense of great joy even as it has excited the ministry as a whole. And I must again publically thank God that my timing in asking Tim to join CT back in 2013 was not God's timing.
God's timing is now!
And with that timing will come someone whose vision for CT is expansive, is media forward, is global, is beautifully orthodox. Everything that is needed for CT as it seeks to be a rallying point for thoughtful Christ-followers in the years to come.
But even as we look forward to all the new and exciting opportunities that Tim will unquestionably open up, my heartfelt prayer is that we will never lose sight of the threefold vision that the Spirit of God himself set upon this ministry through our founder Billy Graham all those years ago.
First, would we faithfully continue to maintain a tone of "conviction and love"—one of Graham's favorite phrases—in everything we publish in print, pixels, over podcasts, on video, and across future media platforms unknown to us today. The depth of our biblical understanding and the irenic tone of its presentation are needed now more than ever.
Perhaps Graham himself said it best:

Source: Christianity Today Most Read