Augustine, T. F. Torrance, John Owen, and more.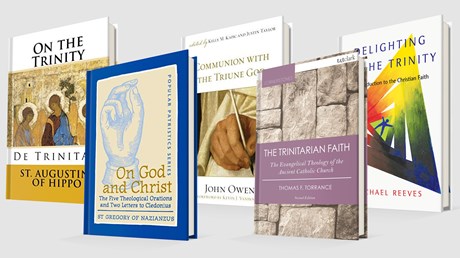 Selected by Kelly M. Kapic, professor of theological studies at Covenant College and the author of The God Who Gives: How the Trinity Shapes the Christian Story (Zondervan).
Augustine
This book is not for the faint of heart, but it is hard to imagine a more influential (and misunderstood!) work on the Trinity. Its brilliance owes not merely to what Augustine says, but how he says it: blending careful philosophical reflection with deep theological understanding, all while fitting in pastoral applications. His movement from contemplating God to the inner life of humans is creative and stimulating, even if at times it raises as many problems as it solves.
Gregory of Nazianzus
As one of the Cappadocian Fathers, Gregory deeply influenced not only the East but also Western Trinitarian theology. While relatively brief, this collection of writings advances a carefully built argument that the one God is eternally the Father, Son, and Spirit. Gregory's focus on the humanity of Christ is wonderfully helpful for Christians who want to understand how their Trinitarian beliefs relate to the Incarnation of the Son.
John Owen
Owen, the English Puritan theologian, stresses that there is no "God" behind the "gods": In other words, the Father, Son, and Spirit do not point to something beyond themselves—to an undifferentiated deity. The living God is none other than the three persons in eternal communion. Drawing from Paul's benediction in 2 Corinthians 13:14, Owen calls us to rest in the love of the Father through the grace of the Son in the fellowship of the Spirit.
T. F. Torrance
I love this book for many reasons, …

Source: Christianity Today Most Read