To glimpse Graham's dynamic leadership style, look no further than his founding of Christianity Today magazine.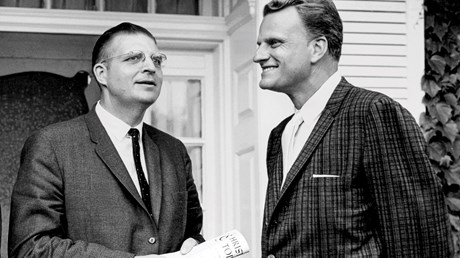 Billy Graham was the founder of Christianity Today magazine.
To most people, that fact brings little more than a shrug. Billy's biographers chronicle many significant achievements, and founding CT is one on a long list.
But go back 50 years to the context in which he founded CT, and the case could be made that this particular achievement was both unique and improbable. How likely is the following scenario?
A young evangelist, best known for preaching to large crowds and often accused by academics and mainstream church leaders of oversimplifying the gospel, dreams of founding an "intellectually credible" publication. From a broad constituency of fundamentalists and evangelicals distrustful of scholarship, the then-38-year-old evangelist convenes a diverse group of national leaders, including titans of business, renowned scholars, and influential ministers. Their goal: to produce a thoughtful publication rooted in historic Christianity to address "the current crisis." At its launch, they distribute it "fortnightly" to all clergy and theological students in the nation, gaining wide impact and recognition. Described for decades afterward as a cross between Time and The Atlantic, it immediately exerts significant influence both nationally and internationally.
So what transformed Graham's improbable idea into a reality? Was this a perfect storm of positive dynamics, or a driving force moving mountains against all odds? Where did this self-described farm boy get the vision and passion to launch CT, and how did he persuade so many to give so much to sustain it for the next five-plus decades?
The Missing Rallying Point
When the trustees of Christianity Today brought me on as CEO in 1975, I was aware …

Source: Christianity Today Most Read