Two of Netflix's Marvel heroes arise out of their respective Christian cultures.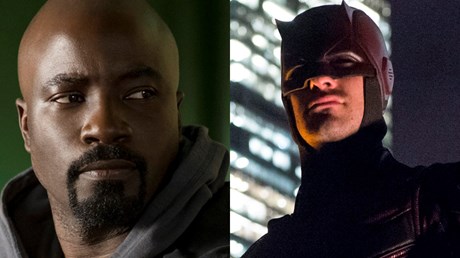 Blind lawyer Matthew Murdock (Charlie Cox) sits in the confession booth at a New York City Roman Catholic church describing his family history—that is, his and his boxer father's violent natures, where they "let the devil in" and people get hurt. But instead of confessing past sins, Matt says, "I'm not seeking penance for what I've done. I'm asking forgiveness for what I'm about to do."
Later that night, dressed in black and a ski mask completely covering his eyes, he attacks criminals engaged in human trafficking, the first of many bloody (though non-lethal) encounters to follow.
With Marvel Studio's incredible box office success now having earned over $3 billion for 2018 alone for three films—Black Panther, Avengers: Infinity War, and Ant-Man and the Wasp—it might be possible to overlook the presence of more grounded superhero series in the same Marvel Cinematic Universe (MCU), on Netflix. Superhero mythologies tend toward outright fantasies, with often cosmic levels of power providing conflict for the stories (see Infinity War). But some of these Netflix series—in particular, Daredevil and Luke Cage—take a different path, getting their down-to-earth dilemmas and moral themes from another place: their protagonists' faith backgrounds.
Just as Phil Vischer promised we'd never see a VeggieTales installment featuring Jesus as a vegetable—it would violate the essential conceit of the stories to feature the Son of God in an animated vegetable world—it's hard to include Christian themes when a genre tends to work by displacing real-world conflict and psychology into fantastic scenarios featuring super soldiers, …

Source: Christianity Today Most Read