The history of our food speaks of injustice— and invites us to redemption.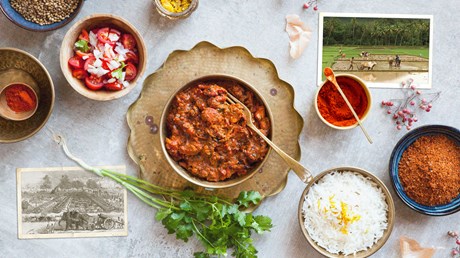 I sat in silence at a corner table of the bustling Vimala's Curryblossom Cafe in Chapel Hill, North Carolina. The spread before me was vibrant: a bright and creamy saag paneer, chicken curry spiced as one might find in the Kerala region of India, and stewed chickpeas prepared according to cooking methods from Delhi. A bed of rice tinged orange from turmeric and crispy bhatura, a yogurt-fermented white bread. The scent of star anise, black pepper, and roasted garlic rose from their respective dishes and melded together by the time they hit my nose.
Altogether, it achieved the symphony to which all chefs aspire, the trinitarian balance of acid, salt, and fat that elevates, without overpowering, the flavor of each element.
As a chef and scholar, a student of food theory and theology, I hungered for chef Vimala Rajendran's handiwork in belly and mind. I'd long heard of her restaurant proclaiming the love of God through its blend of flavors and storytelling.
"A table laden with a variety of spices is a microcosm of how the world is made," said Rajendran, whose work is daily influenced by her faith. "Spices personify that which is in people: fragrance, aroma, character, texture . . . intentionally made so by God the Creator."
We sipped on cardamom tea and discussed its similarity to the Turkish coffee served at a bakery where I once worked. The warm bite of the spice elicited memories of my old roommate who'd grown up in Finland and encouraged me to incorporate cardamom into baked goods more often. While the tender green pod served as a point of contact between Vimala and me, a taste of the communion we shared, cardamom's transnational culinary history is less enchanting.
It was …

Source: Christianity Today Most Read