New historical research by Brian J. Wright shows that early Christians were surprisingly bookish.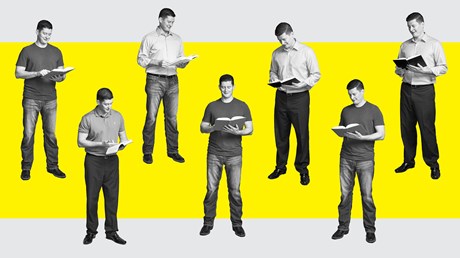 Brian J. Wright first experienced communal reading more than 15 years ago, which led him into the field of textual criticism and put him "three inches from the text." He spent time photographing manuscripts and working with the fine details of the biblical texts. But when he began PhD work, Wright wanted to step back and ask who was reading what in the first century. His advisors told him—and others scholars all thought—that he would have to include the first three to four centuries to have sufficient evidence on communal reading, but his research revealed a vibrant and active culture of communal reading in the first-century Greco-Roman world.
Wright's recently published book, Communal Reading in the Time of Jesus, details his findings and has been drawing praise from a wide variety of established scholars. Wright, now an adjunct professor at Palm Beach Atlantic University, spoke with associate theology editor Caleb Lindgren about what Christian reading communities in the first century looked like and what that means for Christians today.
Most of our study Bibles tell us that many of the apostles and early Christians were not members of the educated elite classes, and are often assumed to be illiterate. How widespread was literacy in the
ancient world?
Great question. My book is not specifically on ancient literacy, but the consensus view of literacy in antiquity, as you just mentioned, is that the vast majority of people were illiterate. Up until now, no one has documented or argued for the widespread practice of communal reading in the first century. So while I disagree with that illiteracy assumption, it really isn't the focus of my work.
Because I've demonstrated that communal reading …

Source: Christianity Today Most Read