An opera heroine's conflict with her faith and family has dangerously high stakes.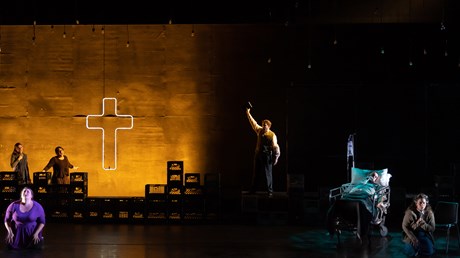 Serpent-handling churches are, for obvious reasons, perpetually fascinating to those outside them. They've been the subject of books, documentaries, songs, photography exhibits, and a reality show.
But opera?
Indeed, Taking Up Serpents, a new hour-long opera commissioned by the Washington National Opera as part of the American Opera Initiative (AOI) Festival, had its world premiere this month at the Kennedy Center in Washington, DC. To its creators, the fringe religious practice was a more natural fit with the art form than you might expect (though they did choose not to have actual snakes onstage).
"This story is operatic in that the characters' faith imbues the world with meaning that is larger than life," explains composer Kamala Sankaram in her program notes. Additionally, the musical format allowed her to incorporate the shape note singing integral to the kind of charismatic church featured in the opera, and rockabilly-infused tunes inspired by the Appalachian region around it. Certain scenes even feature people singing in tongues.
The rough and jagged sounds of this music help shape the gritty story of Kayla (played in this premiere by Alexandria Shiner), a young woman who broke away from her father's charismatic church in Birmingham, Alabama, only to find herself stuck in a dead-end retail job a couple of hundred miles south. Her escape hasn't done much for her, emotionally or spiritually. She's longing for some kind of comfort and certainty, "tired of runnin' from the light."
But an unexpected call from home is a painful reminder that the faith Kayla left was anything but safe and comfortable: Her father (Timothy J. Bruno) is dying from a snakebite received during …

Source: Christianity Today Most Read