Thousands of churches closed in attempt to curb bad buildings—and bad preaching.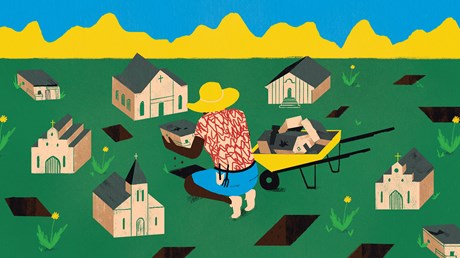 Authorities have closed more than 7,000 churches across Rwanda, including 714 in the capital city of Kigali, in the span of two months for failing to comply with health, safety, and noise regulations.
Underscoring the seriousness of the campaign, a lightning strike killed 16 worshipers and injured 140 at a Seventh-day Adventist church that had not installed a mandated lightning rod.
Lawmakers are now debating new regulations in an attempt to prevent fraudulent behavior among the East African nation's mushrooming churches.
President Paul Kagame welcomed the shutdowns but was stunned at the scale: "700 churches in Kigali?" he said during a government dialogue in March. "Are these boreholes that give people water? I don't think we have as many boreholes. Do we even have as many factories? This has been a mess!"
Kagame said his country doesn't need so many houses of worship, explaining that such a high number is only fit for bigger, more developed economies that have the means to sustain them.
Many church leaders disagree, and six Pentecostal pastors were arrested for organizing protests. Rwandan authorities maintain the churches were in such poor physical condition that they threatened the lives of churchgoers.
The majority are small Pentecostal gatherings. Many are shepherded by charismatic preachers who draw followers with promises of signs and wonders. Often, such churches meet in houses, tents, or crude structures that lack adequate water systems. They often blast sermons down streets through megaphones and loudspeakers.
The existing law on civil society organizations permits Rwandans to open churches and register after a period of months and doesn't require pastors to go through …

Source: Christianity Today Most Read