The horror writer is no fan of organized religion, but his stories don't shy away from belief in things unseen.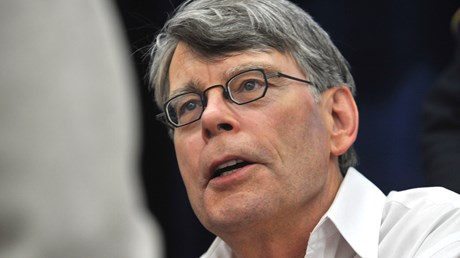 Say what you will about Stephen King, but the man has staying power. Last year's Dark Tower may have flopped, but the big screen adaptation of It raked in oodles of cash (part two is currently in pre-production). And this summer witnesses Sissy Spacek's long-awaited return to the Maine hinterlands of King's Castle Rock, her first time collaborating with the author since her career-defining role as Carrie in 1976. King himself shows no sign of slowing down, with an epic new novel on stands this summer, The Outsider, and another on the horizon.
With each passing year, the horror master's shadow only grows longer. The Duffer Brothers, creators of Stranger Things, went so far as to pay tribute to their hero with the logo of their hit Netflix show. Meanwhile, King's own sons, Joe Hill and Owen King, are both novelists in the same vein as their dad, each boasting significant followings of their own. (His daughter, Naomi, is a Unitarian minister.) Even critics have begun acknowledging the man's dazzling versatility.
King's profile has been so high for so long that it's a bit surprising that Douglas Cowan's America's Dark Theologian marks the first full-length treatment of the religious themes in his work. "Constant readers," as King aficionados are known, are already well aware that he doesn't shy away from the subject.
While it's true that organized religion seldom comes off well in his books, King handles the Christian faith itself in a myriad of ways—as the motivator for bravery just as often as cruelty, a reservoir of strength as well as a shield for cowardice. Characters regularly wrestle with the divine, and rarely the same way twice. Sometimes …

Source: Christianity Today Most Read