Our society is addicted to spectacle. How do we keep our eyes are fixed on Christ?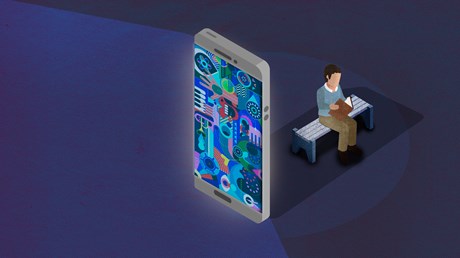 According to research released last summer by The Nielsen Company, American adults spend an average of 11 hours, or almost half of each day, consuming some form of media. From the moment we wake up (and instinctively check our phones), through our daily commutes (with radios or podcasts humming in the background), to the end of the day (when we binge on Netflix), we live those statistics day in and day out. According to Nielsen's numbers, we spend more time consuming media than eating, sleeping, or any other activity.
With so much of our lives revolving around media consumption, it behooves us to develop what Tony Reinke, in his new book Competing Spectacles: Treasuring Christ in the Media Age, calls "a theology of visual culture." Reinke, a senior writer for Desiring God and author of another tech-focused book (12 Ways Your Phone Is Changing You), has emerged as a prophetic voice, one crying out in our digital wilderness, "Make straight the way of the Lord." In Competing Spectacles, he asks an urgent question: "In this age of spectacles … how do we spiritually thrive?"
Aching to Be Awed
Reinke's answer forms the basis of his book, which works anecdotally through various forms of spectacle that are common today. He proves a skillful cultural exegete, making observations about everyday spectacles and spectacle-makers that few of us have the eye to catch.
For Reinke, a spectacle is "a moment of time, of varying length, in which collective gaze is fixed on some specific image, event, or moment. A spectacle is something that captures human attention." He gives particular attention to the spectacles generated by social media, politics, television, and pornography, among …

Source: Christianity Today Most Read