Despite two strong candidates, if ever there were a time for a woman at the helm of the SBC, it'd be now.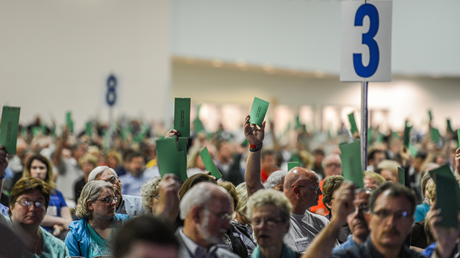 When Trayvon Martin was shot and killed because he simply looked "suspicious," initiated by the fact that Zimmerman viewed him as "suspicious" and chose to pursue him against the order of the police department, it was a personal, powerful, picturesque and emotional moment for me to hear Fred Luter address this matter as president of the Southern Baptist Convention (SBC).
I never thought I would live long enough to hear a SBC president redemptively, righteously, and prophetically address a matter when a young black man was needlessly shot because the idea was stimulated by unfounded suspicion and his killer not following a police order.
If a Hispanic person were addressing immigration issues while serving as president of the SBC, it would likely have a radically different tone and project the SBC as compassionate on the immigration question.
Imagine for a moment with me, what if the person serving as SBC president at this hour was a competent, accomplished, biblically sound, orthodox female who could address the multitude of questions and issues the SBC is facing regarding women? The criticism and skepticism would be less dramatic if the SBC historically had demonstrated confidence and belief in the gifts and value of SBC women serving at all levels of leadership in SBC institutional life within the boundaries of the Bible.
To say this is a critical hour in the life of the SBC is an understatement. The presidency of the SBC is by design weighted more toward symbolism than governing. There is no budget, personnel, office space, and extremely limited authority that are presumptive or inherent in occupying the office of president of the SBC.
Yes, the SBC president appoints the committee on committees that …

Source: Christianity Today Most Read